Giving presentations in front of your colleagues and clients is an important skill for anyone in business from cleaner to CEO, but not all of us are instinctively skilled at it. For example, a recent survey from Company Magazine blamed 78% of work absences and 19% of heart attacks as a result of poor work presentations. Heed these tips – the tips that Obama, Jobs and even Space Hitler used to rise to the top.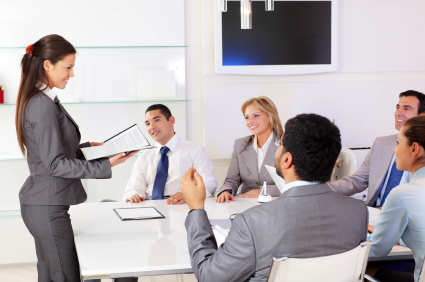 1) Not using someone's name
People love the personal touch. Remembering people's names makes them feel important. When giving a work presentation, remember to look everyone in the eye and say their full name 3 times before moving onto the next person. A recent study for TeenCorporation Magazine stated that not mentioning everyone's name makes 37% of people uncontrollably angry and 5% violently sick.
2) Do not use Pie charts
What do you think this is? The 1980s? Nobody even eats pies any more, let lone makes pie charts. The best way to show proportions of a total in diagrammatical form is using a puppet show or interpretive dance.

3) Nudity
Nudity is inappropriate in most non-nude business situations.
4) Morrissey
Despite being beloved by Smiths fans, and producing many classic hits throughout the following 2 decades, Morrissey is not experienced at business presentations and will insist on using pie charts and being racist

5) Going on and on about your shiny pants
Nobody cares! Get to the business figures, man!
6) Going back to the original Greek.
Not everyone needs to know the original Greek to fully understand the New Testament passage you are expounding. In fact, you're kind of second-guessing the scholars who have done the translating and are probably better at it than you. By all means, have other translations to hand to get a great angle on it, but you don't need to bore your colleagues with it.







by